Lhasa Travel Guide
Lhasa, in Tibetan means the Palace of the Gods, is the present capital city of Tibet Autonomous Region, also has been the religious, cultural and economic center of Tibet for centuries. It is famous for the devout Tibetan Buddhism, pleasant sunshine, classic architectural style.
Lhasa, in Tibetan means the Palace of the Gods, is the present capital city of Tibet Autonomous Region, also has been the religious, cultural and economic center of Tibet for centuries. It is famous for the devout Tibetan Buddhism, pleasant sunshine, classic architectural style. Travelers can't help being filled with deep esteem when seeing the grandiose Potala Palace uprising above the holy city, devoted pilgrims forming a continuous waving of Kora around the Jokhang Temple. Lhasa is the home of many influent Buddhist sites which have long tradition and history of Buddhism, including Jokhang Temple, Sera Monastery, Drepung Monastery, Ganden Monastery, Norbulingka Palace, etc.
Here in Lhasa, Time steals away from you quietly while walking under the sunshine and getting lost in the fabulous Tibetan culture.
Why visit the city:
Holy City of Buddhism - Buddhism is the essence of Lhasa. Since the 7th century when the great King Srongtsen Gampo set Lhasa as the capital city, and built the revered Jokhang Temple, Lhasa has always been the holy city of Buddhism. The most powerful leader of Tibetan Buddhism Dalai Lamas lived and worked in the Potala Palace. The most influential sect of Tibetan Buddhism Gelug founded their first monastery in Lhasa – Ganden Monastery and other two famous monasteries of Drepung and Sera. Drak Yerpa near the city was the meditation cave of Buddhist master – Padmasambhava.
Spectacular Architecture - visiting Lhasa, you will definitely love the spectacular Tibetan architecture style. Large scale using of red and white, ornate roofs and windows, Buddhism-themed decoration – everything is so unique.
Tourist Distributing Center - Lhasa is the most important transportation hub of Tibet. Travelers usually choose Lhasa as the first stop in Tibet for the convenient arrival of flight and train. After staying several days in Lhasa, travelers can extend trips to nearby regions, such as Namtso, Nyingchi, Tsetang, Gyantse, Shigatse, etc. One can even travel from Lhasa to Everest, Ngari.
Top Attractions
Lhasa is the most popular destination in Tibet which is full of things to do. Most of attractions in Lhasa are themed by Tibetan Buddhism, such as the spiritual center of Tibet – Jokhang Temple, the Dalai Lamas' palace – Potala Palace, traditional Tibetan residential and market area - Barkhor Street, famous monasteries Drepung and Sera, etc. Travelers shouldn't miss the holy lakes Namtso which is only several hours' driving from Lhasa city.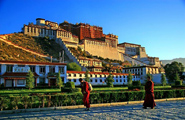 Potala Palace
The fabulous beauty of the architecture, long-standing history and great religious influence make Potala Palace world famous around the world ...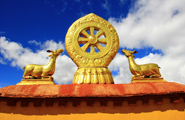 Jokhang Temple
Jokhang is the holiest temple in Tibet, housing the life-size image of Buddha Jowa Sakyamuni, attracting thousands of pilgrims to worship ...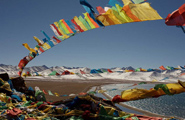 Namtso Lake
Namtso is one of Three Holy Lakes, also one of the most beautiful lakes in China. It is regarded as the perfect site for photography lovers ...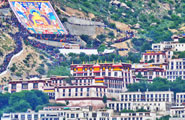 Drepung Monastery
Drepung Monastery used to be the largest monastery and most powerful monastery in Tibet with more than 141 manors and more than 540 pastures ...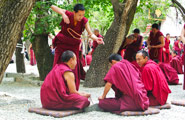 Sera Monastery
Sera Monastery is major monastery of Gelug Sect of Tibetan Buddhism and famous Buddhist Debate, many magnificent Buildings, historical relics...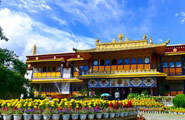 Norbulingka
Norbulingka is a large park and regarded as the "Summer Palace in Lhasa". Magnificent palaces, rare historic relics and fascinating scenery...
Barkhor Street
Barkhor Street in the heart of Lhasa is one of the top three circumambulations here and also a famous shopping street with various featured commodities...
Weather & When to Go
Lhasa has a typical highland temperate semi-arid monsoon climate. Located about 3700 meters above sea level, Lhasa is featured in having clean sky, thin air, plenty of sunshine each day. The average temperature in Lhasa is 8.3 °C (47 °F). The lowest temperature is about -10 °C (14 °F) in January, the highest temperature of 24 °C (75 °F) in June
Lhasa city region is suitable for travel all year around, but from March to October is the best time. Spring days is dry but with comfortable warm sunshine. The weather is usually mid and with some waterfalls during summer days. You'd better bring sunglasses and sunblocking cream to protect from strong ultraviolet rays. Autumn is the best season to visit Lhasa when the daytime is cool, scenery is fascinating. Winter is a bit windy and cold. But the sunshine can warm you in the daytime.
Transportation
So far, train and flight are major transfer to/off Lhasa. Most of travelers travel to Lhasa from major cities in China, such as Chengdu, Xian, Beijing, etc. Some travelers travel to Lhasa from Kathmandu of Nepal.
Train to/off Lhasa
Taking train to Lhasa is very popular with travelers because one can not only experience the highest railway above sea level, but also explore the stunning landscape of the Qinghai Tibet plateau. So far, travelers can take train to Lhasa from cities including Beijing, Chengdu, Chongqing, Shanghai, Guangzhou, Xining, Lanzhou. The tickets are usually in intense especially in peak season (June to October), so you'd better book as early as possible.
Flight to/off Tibet
Flight is the most convenient transportation to Lhasa. Travelers can take flights from major cities to Lhasa, such as Beijing, Xian, Shanghai, Guangzhou, Chengdu, etc. Lhasa Gongga International Airport is the largest airport in Tibet operating daily flights to other destinations in China. So far, there is only one international flight schedule between Lhasa and Kathmandu.
Transfer around Lhasa
So far, highway is the major transportation for travel around Lhasa. Many destinations can be reached by vehicles from Lhasa, such as Namtso, Gyantse, Nyingchi, Shigatse, etc. There is only one prefectural railway in Tibet operating daily trains between Lhasa and Shigatse.
Accommodation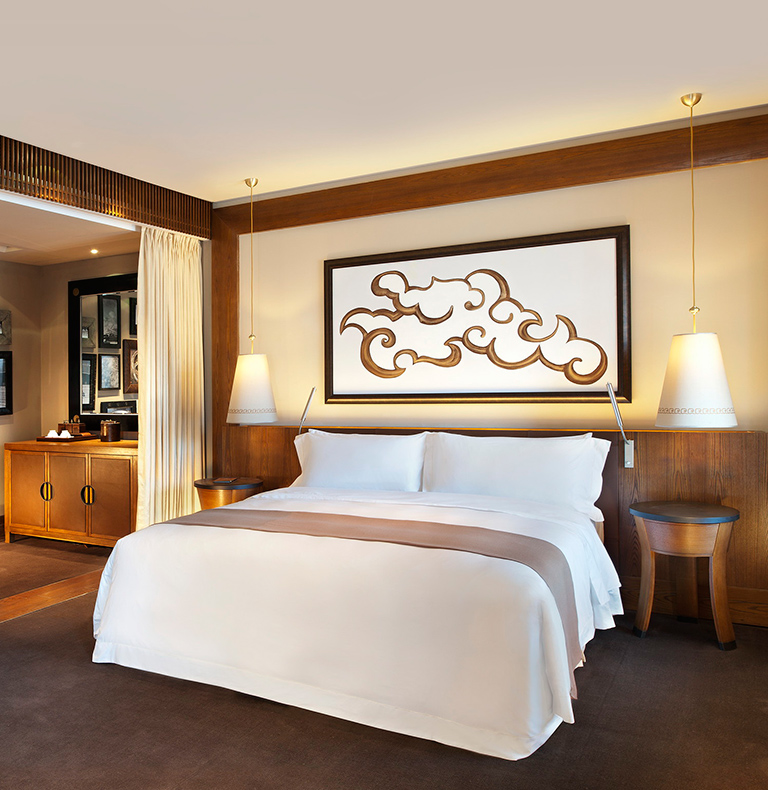 Lhasa doesn't offer as much top-class luxury accommodation as top destinations in China, such as Beijing and Shanghai, but travelers can also easily get a comfortable and cozy stay in Lhasa. If you favor on some international deluxe hotel brands, you can choose Sheraton, Continental, St. Regis, etc. If you prefer to stay at some unique Tibetan style hotels, you can make choice between a large numbers of local hotels, such as Brahmaputra Grand Hotel, Lhasa Gang-Gyan Hotel, Tashi Choe Ta Hotel, etc. These hotels are usually budget, while offering pleasant service.
Most hotels of Lhasa gathering in tourist area of old Lhasa city region where travelers can easily get to famous attractions, such as Potala Palace, Jokhang Temple, Barkhor Street, etc. Around the hotels, one can find restaurants, banks, shop markets easily.