Huangshan Travel Guide
Huangshan, called Huizhou in old days, is located in the south of Anhui Province, well linked with Jiangxi Province in southwest, Zhejiang Province in southeast. The city is named after the famous scenic Yellow Mountain which covers much of the city's vast geographic expanse. The urban center of Huangshan was originally the city of Tunxi and is now called Tunxi District.
Huangshan, called Huizhou in old days, is located in the south of Anhui Province, well linked with Jiangxi Province in southwest, Zhejiang Province in southeast. The city is named after the famous scenic Yellow Mountain which covers much of the city's vast geographic expanse. The urban center of Huangshan was originally the city of Tunxi and is now called Tunxi District.
Huangshan is home to UNESCO World Heritage Sites, Mt. Huangshan and Hongcun and Xidi, the ancient villages in Southern Anhui. It is one of the top destinations in China and you'd better cover it with Shanghai, Suzhou and Hangzhou in the east, or Jingdezhen, Wuyuan in the west.
Why Visit this City:
Yellow Mountain. When its archetypal granite peaks and twisted pines are wreathed in spectral folds of mist, Mt. Huangshan's idyllic view is definitely the most breathtaking sight in China.
Huizhou Style. Huizhou architecture is the most distinctive ingredient of the regional personality, representative of the merchant class that held sway in this region during the Ming and Qing Dynasties. The white-fronted house with horse-head walls and intricately placed tiles, this style is a stunning characteristic of Anhui. Some of the most famous ancient villages, including Xidi and Hongcun are the most typical examples of Huizhou architecture.
Slower Pace of Life. To seek for an escape from the hustle and bustle of the temporal world, Huangshan is the best place. No matter the life in Mt. Huangshan or in ancient villages, Huangshan rewards travelers with moments of tranquility and peace at a slower pace.
Top Attractions
In Huangshan City, the world famous Mt. Huangshan is the must-visit attraction. Besides Mt. Huangshan, travelers can explore the Huizhou culture in the nearby ancient villages, like Xidi and Hongcun Ancient Villages. To visit more attractions in Huangshan, please go and see all Attractions in Huangshan.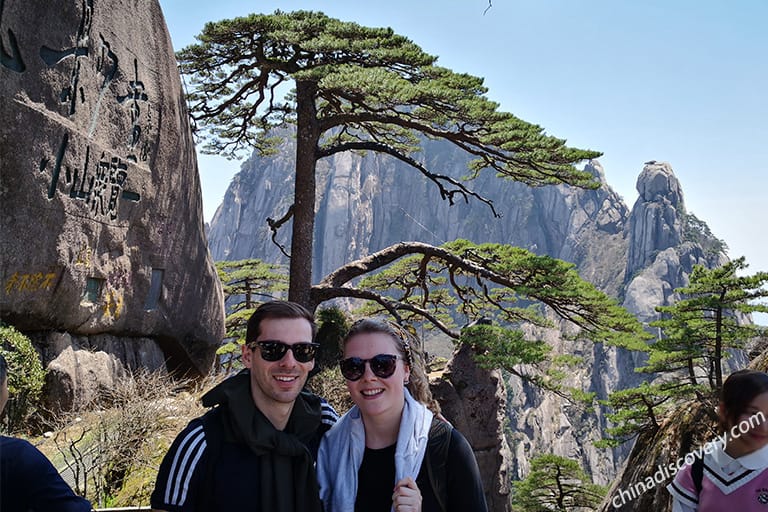 Mt. Huangshan
Mt. Huangshan, also Yellow Mountain, is famous for the five wonders: odd-shaped pines, spectacular rocky peaks, sea of clouds, hot spring and winter snow.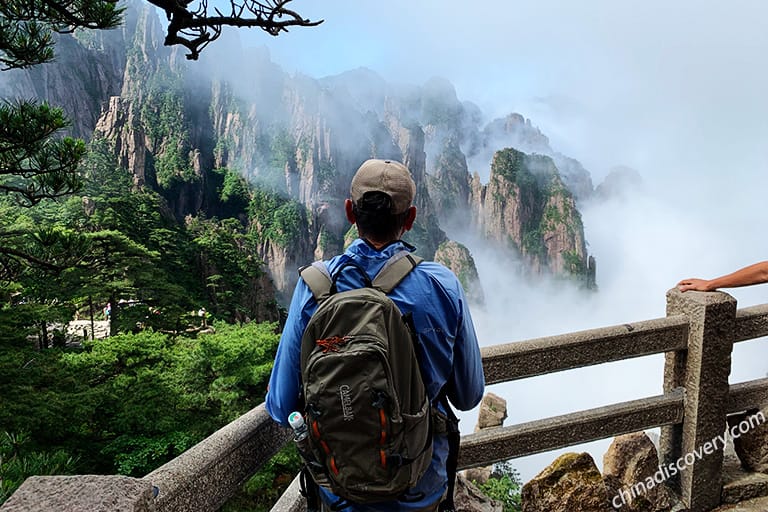 West Sea Grand Canyon
West Sea Grand Canyon is the world of unique formations of stones, rocks and peaks, and lush pine trees. Hiking there allows you to enjoy the breathtaking view.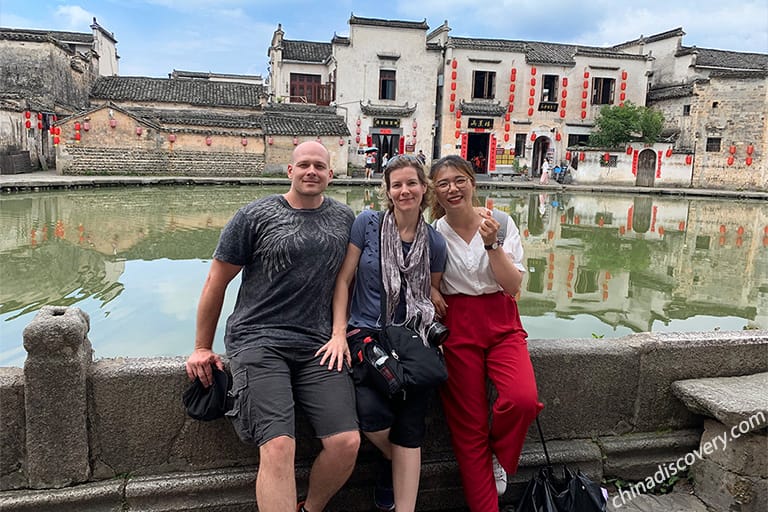 Hongcun Ancient Village
The 900-year-old ancient village is known for "Ancient Village in Chinese Paintings". It was listed as UNESCO World Heritage site, along with Xidi.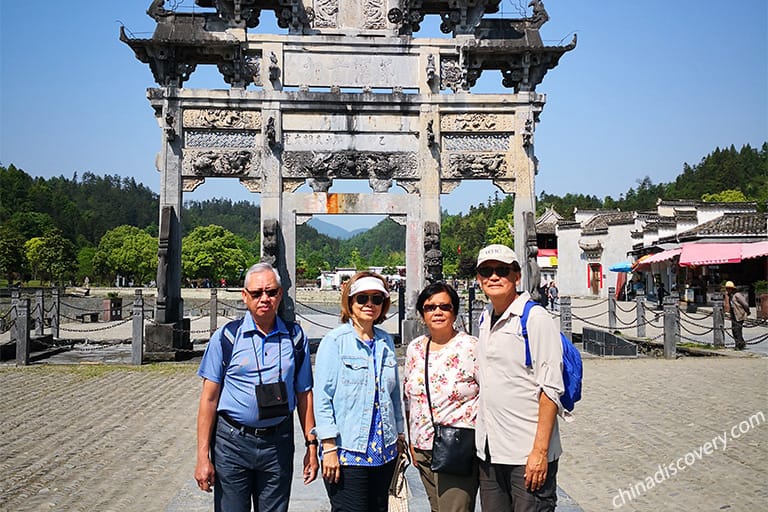 Xidi Ancient Village
There are 124 well-preserved ancient dwelling left from Ming and Qing Dynasties. It was listed as UNESCO World Heritage Site in 2000, along with Hongcun.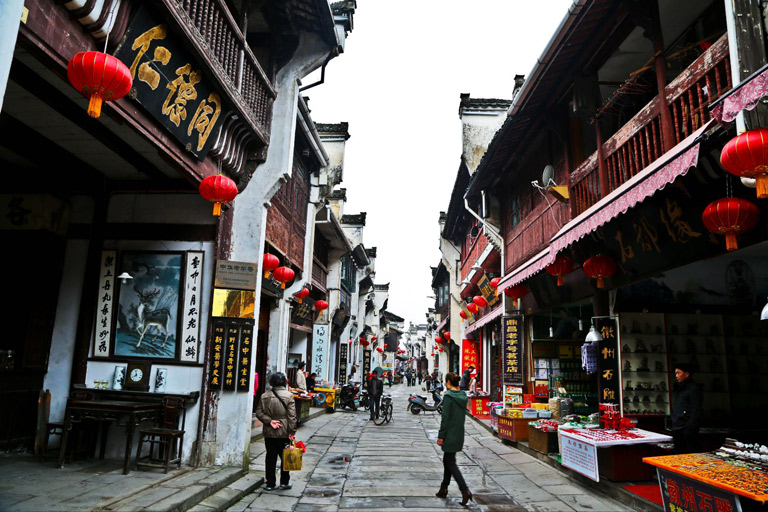 Tunxi Ancient Street
With about 630 years' history, Tunxi Ancient Street is the best preserved old street in China in the style of the Southern Song Dynasty, Ming and Qing Dynasties where you can absorb Hui-style culture.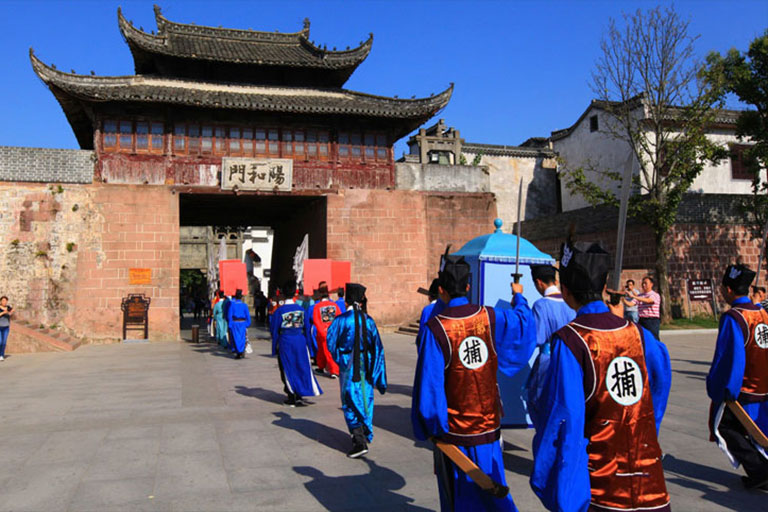 Huizhou Ancient City
Huizhou Ancient City is a key historical and cultural town where you can explore featured architectures in Ming and Qing Dynasties as well as ancient Huizhou culture...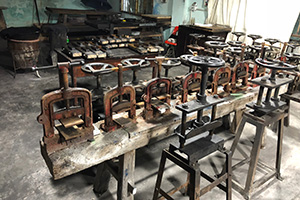 Hu Kaiwen Ink-stick Factory
Hu Kaiwen Ink-stick Factory is a time-honored factory for producing ink stick. The visitors can watch the process of producing ink sticks as well as learn the culture of traditional Chinese academy.
Tachuan Ancient Village
Colorful autumn scenery wins Tachuan Village a major membership of Top Four Most Beautiful Autumn Spots in China. The oil painting style views will feast your eyes and camera during late autumn.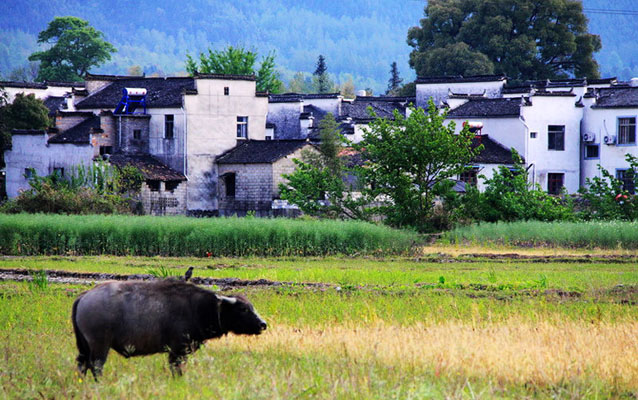 Nanping Ancient Village
Nanping Village is a labyrinthine ancient village built in Ming Dynasty. Well-preserved with 8 old ancestral halls, it is honored as the museum to Chinese Ancient Ancestral Halls.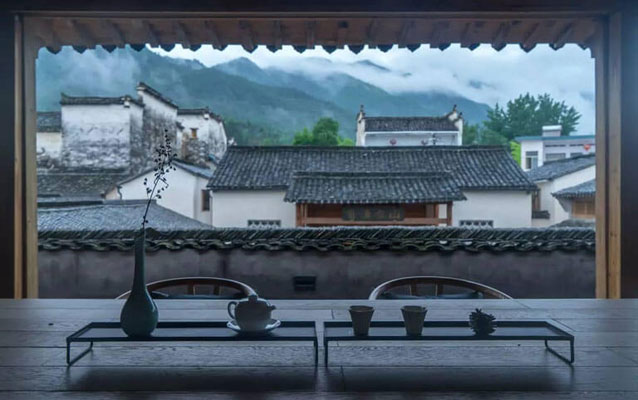 Bishan Ancient Village
Bishan Village is a low-key but charming ancient Huizhou villages. It provids visitors a perfect world to get away from the crowd. There are rustic landscape and pure life...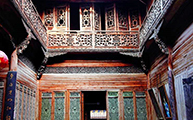 Lucun Ancient Village
Lucun Village nearby Hongcun is a peaceful village notable for numerous exquisite wooden carved ancient residences of Lu Family. The stunning golden sea of rape blossom during spring wouldn't be missed.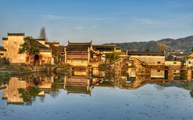 Chengkan Ancient Village
With about 2000 years' history, Chengkan Ancient Village is the best-preserved ancient village in the Ming Dynasty(1368-1644) and it is built according to the magical Feng Shui theory.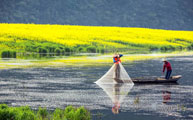 Xin'an River Landscape Gallery
Xin'an River Landscape Gallery is the highlighted part of Xin'an River. Cruising or hiking there allows you to enjoy the natural beauty and explore the local culture.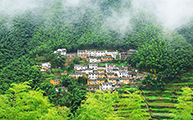 Mukeng Bamboo Forest
Filmed in the Oscar dark horse Crouching Tiger, Hidden Dragon, the vast sea of green bamboos around Mukeng Village refreshes your mind & body when you join in farmwork & hike a short circuit.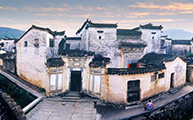 Guanlu Ancient Village
Regard as China's Ancient Private School Museum with over 1000 years history, Guanlu is less-known rustic village featured on the "Eight Big Houses" - jointed historical residences of one family.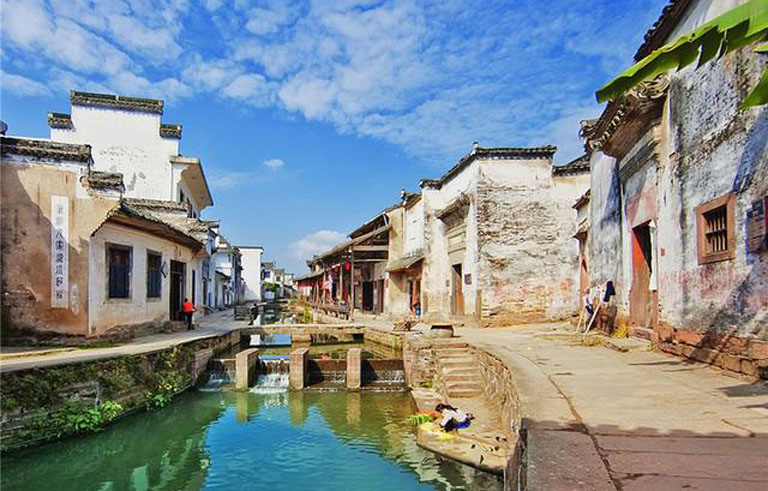 Tangmo Ancient Village
Tangmo Ancient Village, a National 5A Tourist Scenic Area, is built after the model of the Tang Dynasty. It is famous for its Hui-style Shuikou garden and is called "No. 1 Shuikou Garden Village in China".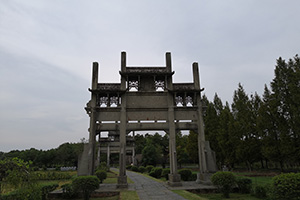 Tangyue Memorial Archways
Located in the Shexian, Tangyue Memorial Archways are the representative works of Huizhou Architecture Art. It illustrates the loyalty, filial piety, chastity of women and righteousness of Huizhou People.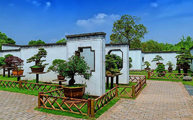 Bao Family's Garden
Bao Family's Garden in Shexian is the largest private garden and the best place to appreciate bonsai in China. Here you can enjoy nearly 10,000 precious bonsai in various shapes and of different species.
Featured Activities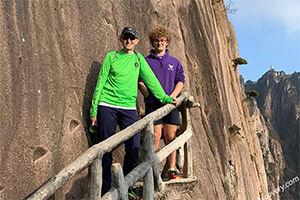 Yellow Mountain Hiking
Hiking and Trekking in Mt. Huangshan must be a lifetime enjoyable experience. While admiring the picturesque landscape, you can stretch your legs and touch the nature deeper. If you want an easier hiking route, turn to Xinan River. From the riverside villages, you can appreciate the fascinating idyllic scenery.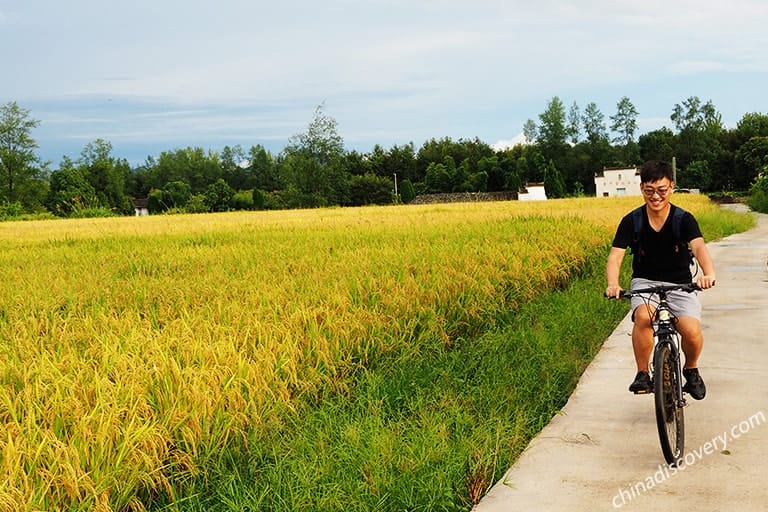 Huangshan Biking
Biking at the foot of Huangshan Mountain at a leisure pace is a meaningful way to discovery beautiful natural scenery in Huangshan City. Picturesque landscape, featured ancient villages and charming local customs along the routes let the ride a relaxing enjoyment, both for mind and body.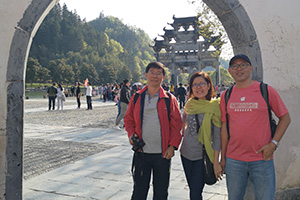 Hiking Around Huangshan
There are top 4 hiking and walking tails around Huangshan to give you a wonderful opportunity to exploring Huangshan or old Huizhou. You are able to follow the Huizhou merchants' steps and hike along the ancient pathway. The natural scenery and pure rural life in your hiking trip are amazing.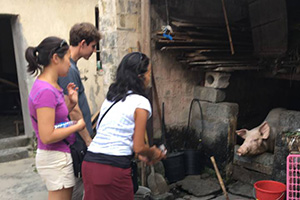 Huizhou Culture Experience
Huizhou is also known as Huizhou in old times. The ancient civilization and superior natural environment moisten the land of Huizhou and breed the unique Huizhou culture. It is available to take part in different activities to better explore Huizhou culture. Traveling with China Discovery, you will get a lot of choices.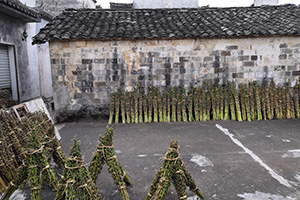 Local Life Experience
China Discovery has a good contact with local villages and some tea gardens, so we can provide a customized tour involving various local life experiences, like doing farming work, pick tea-leaves, making Huizhou dessert, watching process of making bean curd, etc.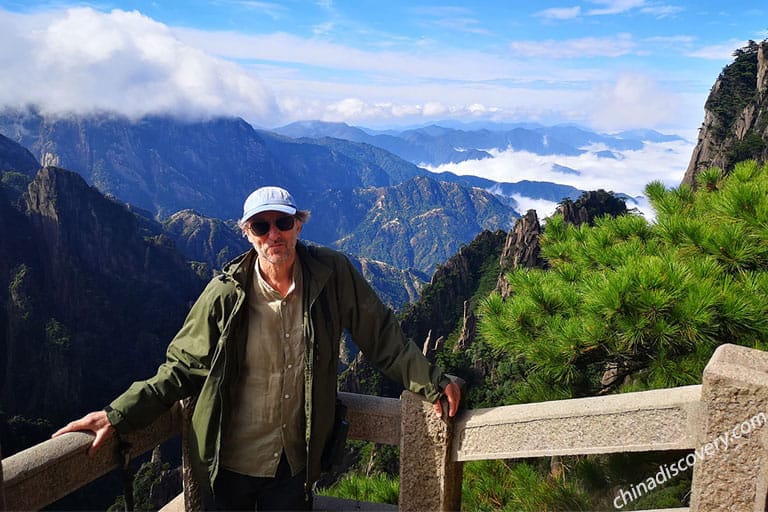 Photography
Undoubtedly, the particular-shaped peaks, sunrise, fantastic rocky and sea of clouds in Mt. Huangshan attract lots of artists and photographer to capture the most breathe-taking images. In addition to that, Hongcun Village with white walls, dark tiles, red lantern and peaceful lake is perfect destination for photography. Both of them can't be missed.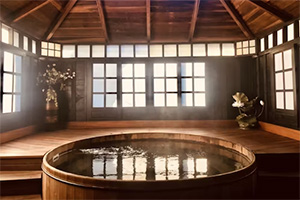 Hot Spring
Referred as one of Four Wonders in Mt. Huangshan, hot springs with a nationwide fame enjoy great medical value and health function. After a hiking to Mt. Huangshan, having a hot spring is the best way to relax your body and make you refreshed. You can even choose various scented baths like rose, green tea, coffee...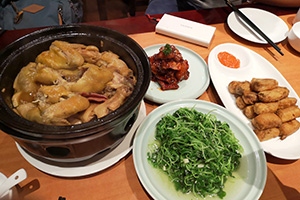 Delicious Food
The food of Huangshan belongs to Hui-cuisine which is one of Eight Cuisines in China, featuring in cooking wild food materials. Visiting Huangshan, Huizhou Mandarin fish is a must try. It is deliciously cooked with fresh bamboo shoot, mincemeat and pickled chil! Huangshan sesame seed cake and mao-tofu are worthy of your try as well.
Weather & When to Go
Located in the northern subtropical region, Huangshan City belongs to humid subtropical monsoon climate with four distinct seasons. The annual average temperature of Huangshan city is about 16 °C, and the average annual precipitation is about 1670 mm. With a comfortable weather (not too hot or too cold), Huangshan City and nearby villages are suitable to visit all year around. The best season is the spring (March to May) and autumn (September to November).
As for Mt. Huangshan, the climate of Mt. Huangshan varies on different elevations and the temperature changes vertically. Mt. Huangshan enjoys different scenery in different season. Usually, April to July is the spring in Mt. Huangshan with all the flowers blossom merrily. Summer is from July to September and mountain is green and grand. It becomes a good summer resort for many travelers. October to November is the autumn with the leaves turning yellow and red, making the mountain covered with different colors. From December to March, the snow-capped Yellow Mountain is a fairyland. It is hard to say which season is the best time to visit Mt. Huangshan. You can decide according to your holiday and Huangshan Mountain will no doubt show her most beautiful side to you.
Transportation
Transfer to Huangshan City – By Flight & High Speed Train
Huangshan Tunxi International Airport is located 7 km from Huangshan Tunxi downtown area. It has flights from/to Shanghai, Beijing, Chengdu, Xian, Chongqing, Hefei, Guangzhou, Xiamen, etc. Shanghai is the best gateway to Huangshan City and many travelers choose go by air. It needs only 1 hour and 40 minutes.
High speed train is conveniently connecting Huangshan and other cities in China. Travelers can take G trains from/to Shanghai (4 hrs and 44 mins), Hangzhou (3 hrs and 38 mins), Beijing (around 6 hours), Jinan (4.5 hrs), Tianjin (around 5.5 hrs), Hefei (1 hr and 40 mins), Fuzhou (2.5 hrs), Mount Wuyi (1.5 hrs), etc. It is a good choice to travel between Shanghai and Huangshan, Hangzhou and Huangshan by high speed train. Travelers can cover the top destinations and their highlighted attractions in Jiangnan area with a convenient transfer at relatively low price.
Transfer within Huangshan
There are sightseeing buses from Huangshan downtown area to the world heritage sites, like Mt. Huangshan, Xidi Ancient Village and Hongcun Ancient Village, within 1.5 to 2 hours' transfer. To transfer in and Huangshan easily, you can use our private car service.
Transfer to/within Mt. Huangshan
Most tourists like to start their Mt. Huangshan tour from Huangshan City. There is about 60 km (one hour's drive) to Tangkou Town which is the base of Mt. Huangshan. Independent travelers can take a tourist bus to Tongkou Town easily. If you are not serious hikers, four cableways are available to save your energy and time.
Accommodation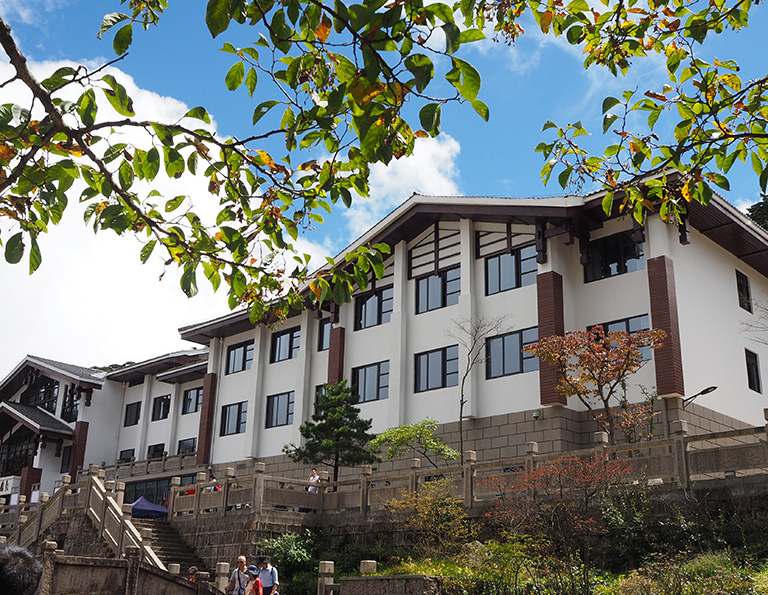 Accommodations ranging from Five-Star Hotels to economic hostels are all accessible in Huangshan. For travelers who want to tour around Huangshan City to nearby counties or ancient villages, accommodating in Huangshan Tunxi Area is a good option for the convenient transportation. Recommended hotels include International Huangshan Hotel (5-star), Crowne Plaza Huangshan Yucheng (5-star), Huangshan Golf Hotel (5-star), Xin'an Garden Hotel (4-star) etc.
For those who want to visit Mt. Huangshan (Yellow Mountain) for 2 or 3 days, you'd better stay on the top of Huangshan Mountain for overnight. Hence, you can catch the best chance to enjoy spectacular sunrise and sunset within walking distance from the hotel. Recommended hotels include Xihai Hotel (5-star), Beihai Hotel (4-star), Shilin Hotel (4-star), Baiyunlou Hotel (3-star) etc.