Chengdu Travel Guide
Chengdu is the provincial capital of Sichuan province, as well as the major city in Western China. Located on the fertile of Chengdu Plain, Chengdu is known as the "Country of Heaven", a phrase translated as "Land of Abundance".
Chengdu is the provincial capital of Sichuan province, as well as the major city in Western China. Located on the fertile of Chengdu Plain, Chengdu is known as the "Country of Heaven", a phrase translated as "Land of Abundance".
The discoveries Sanxingdui and Jinsha sites suggests that Chengdu region was inhabited over 4000 years ago and was an important center of unique ancient culture during the period of Shang and Zhou dynasties. Hence, in the Land of Abundance and Home of Giant Panda, travelers could meet the adorable Giant Pandas and explore Ancient Shu civilization, culture of Three Kingdoms, Buddhist and Taoism cultures, featured streets and historic towns.
Why visit Chengdu:
Giant Panda. Chengdu is the great place where you can see the cute black and white bears up close and personal. With more than 80 giant pandas in Chengdu panda base, you can stroll through the green bamboo groves, meet pandas in different enclosures, watch them munching on bamboo, climbing trees and play fighting with each other, and sleeping, etc.
Leisure Life. In this laid-back city, no matter how quick the city develops and how fast-paced the locals move, the consistent relaxed and calm way of life resonates throughout every aspect of Chengdu.
Gateway City. For the geographical location, Chengdu is also served as gateway city to nearby attractions, like Leshan Giant Buddha, Mount Emei, Dujiangyan Irrigation System, as well as to Jiuzhaigou, Hongyuan, and West Sichuan. It is also one of the most popular gateway cities to Tibet, no matter transfer by flight or by train.
Travel News: Visa-free travel in Chengdu was made possible now! From Sept.01, 2013, visitors qualified of 45 countries could travel in Chengdu for 72 hours without visa.
Top Attractions
Chengdu is endowed with numerous scenic attractions, from ancient streets, temples and museums to modern buildings, squares. Of course, you won't miss Giant Pandas. Check the top attractions listed below and get to know deeply about them.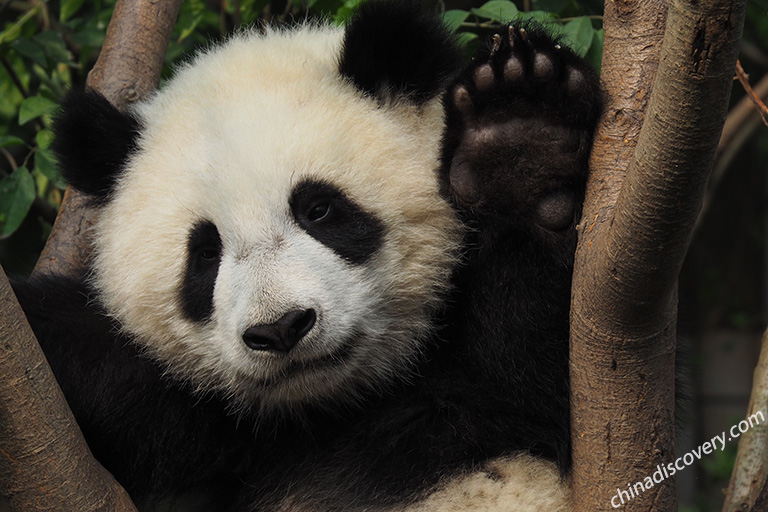 Chengdu Panda Base
Take half fay to have closely contact with Giant Pandas and Red Pandas to see them playing, eating bamboos, sleeping, climbing trees...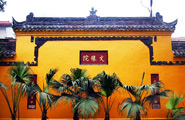 Wenshu Temple
Wenshu Temple, located in downtown area, is a 1300-year-old Buddhist monastery with lovely buildings, vegetarian restaurant and tea houses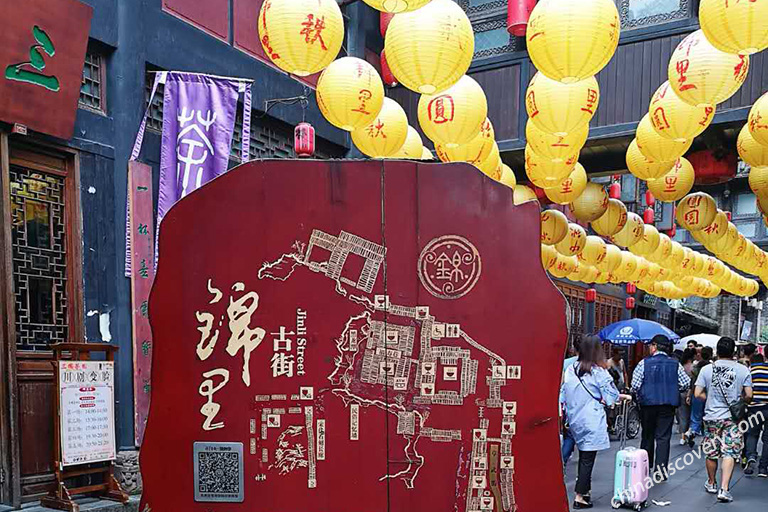 Jinli Old Street
Closed to Wuhou Memorial Temple, Jinli Old Street is known as "First Street of the Shu Kingdom". Great for strolling, photo and snack tasting.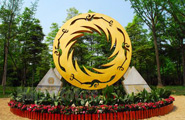 Jinsha Site Museum
Constructed on the Jinsha ruin site, it reveals the unique bronze civilization of the mysterious ancient Shu Kingdom and presents Golden Sun Bird.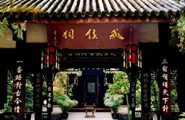 Wuhou Memorial Temple
Situated next to Jinli Old Street, Wuhou Memorial Temple is in honor of Zhuge Liang and Liu Bei during the Three Kingdoms period (220-280).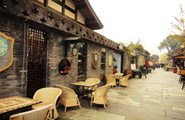 Kuan Zhai Alley
Kuan Zhai Alley consists of three Qing Dynasty streets - Wide, Narrow and Jing Street, reflecting the slow paced life of Chengdu.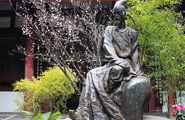 Dufu Thatched Cottage
Closed to Huanhuaxi Park, Dufu Thatched Cottage is a museum and memorial for Du Fu, a great poet in Tang Dynasty (618-907).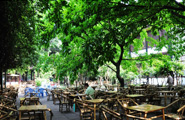 Chengdu Renmin Park
Located at the city center, Chengdu Renmin Park is the most popular park among local people, great place to experience the leisure of Chengdu.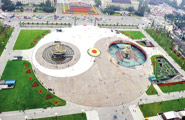 Tianfu Square
Located at the downtown, Tianfu Square is the largest city square in Chengdu surrounded by super-high rises and shopping malls.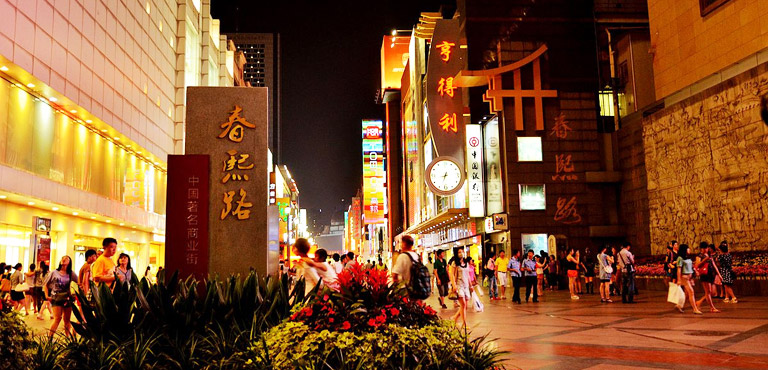 Chunxi Road
It's more than a shopping district, but also a very good place to have fun, take a rest, taste various types of food of Chengdu and experience the local life.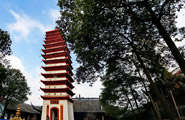 Baoguang Temple
18 km from Chengdu, Baoguang Temple is one of the greatest Buddhist Temples in west China with precious Sarira and 518 Arhat statues.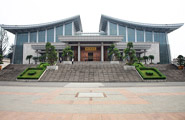 Sichuan Museum
Sichuan Museum collects abundant relics of bronze, ceramics, jade, paintings, etc. to show the history and culture of Sichuan.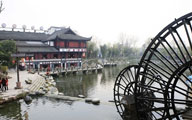 Huanglongxi Ancient Town
Huanglongxi Ancient town, with over 1700 years of history, still retains its rustic charm with Ancient Buildings and old folklore custom.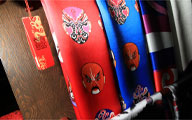 Shu Brocade and Embroidery Museum
Shu Brocade and Embroidery Museumis the only professional place in China to show all the processes of Shu brocade hand-weaving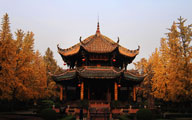 Qingyang Palace
Qingyang Palace is is a nationwide known Taoist temple which stores the most integrated collction to research Taoism.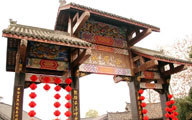 Luodai Ancient Town
Luodai Ancient Town is the largest and best preserved ancient town for Hakka people, located 20 km from downtown Chengdu.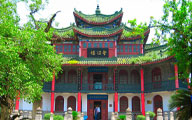 Wangjianglou Park
Wangjianglou Park, is built to memorize Xue Tao, a celebrated poetess in Tang Dynasty. It is wide-known as a natural garden with emerald bamboos.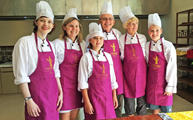 Sichuan Cuisine Museum
It's the first museum to display a regional cooking culture in the world. You can learn Sichuan cuisine culture as well as cook the typical Sichuan dishes on your own to satisfy your taste buds.
Featured Activities
To make your life more colorful and interesting in Chengdu, we have digged out the featured activities with lots of fun. It could be unique experience and even once-in-lifetime experience.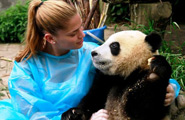 Panda Volunteer
Spend one day or more to join in Panda Volunteer Program to have very close contact and take care of with the giant pandas.
Sichuan Opera
Enjoy traditional Sichuan opera's stunts like face-changing, fire spitting, hand shadow, etc. Shufengyayun is the recommended opera house.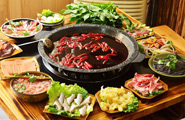 Sichuan Cuisine
Try typical Sichuan dishes, like Hot Pot, Kung Pao chicken, Mapo toupu, Twice-cooked pork, etc. in traditional Sichuan restaurant.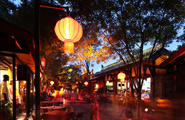 Nightlife in Chengdu
Explore on your own to enrich your nightlife in Chengdu by visiting bars, nightclubs, theaters and traditional tea houses.
Weather & When to Go
Chengdu has a monsoon-influenced humid subtropical climate and is largely mild and humid. It has four distinct seasons - spring, summer, autumn and winter, with an average temperature of 16℃. Chengdu is lack of sunshine and most days are grey and overcast even if without rain.
The best times to visit Chengdu are spring (from March to June) and autumn (from September to November) for the moderate and mild weather.
If you want to go during the festivals, you can go during Chinese Spring Festival to attend Lantern Fair, Grand Temple Fair and Huanglongxi Fire Dragon Festival and also go during Qingming Festival to see Dujiangyan Water-releasing Festival, from January to March to experience South China Snow and Ice Festival at Xiling Snow Mountain.
Transportation
Travelers could get to Chengdu by air, train (including high speed train) and bus. Chengdu Shuangliu International Airport is located 20 km in southeast of Chengdu. It has 141 domestic airlines from/to major cities of China like Beijing, Shanghai, Xian, Lhasa, Guilin, Kunming, Lijiang, Shangri-La, Guiyang and main destinations in Sichuan like Jiuzhaigou, Daocheng, and Aba Hongyuan. There are 54 international airlines connecting Chengdu with Hong Kong, Macau, Los Angeles, Chicago, San Francisco, Frankfurt, Paris, Sydney, Melbourne, Singapore, Tokyo, Soul, Moscow, etc.
Taking high speed train is fast and convenient to reach Chengdu. Travelers could take high speed train from Chongqing to Chengdu/ Chengdu to Chongqing within 2 hours. Also, there are c-trains connecting Chengdu with Leshan, Emeishan, Dujiangyan, Qingchengshan and many other cities near Chengdu. The trains are available from Chengdu Station (also Chengdu North Station), Chengdu East Station and Chengdu South Station. Please figure out which station you are going to use after booking your ticket.
Buses are available between Chengdu and Leshan, Emei Mountain, Jiuzhaigou Valley, Hongyuan, Ruo Ergai, Xiling Snow Mountain and other destinations. Xinnanmen Bus Station is the most used bus station for tourists.
To get around Chengdu easily, travelers could try taxi, subway (Line 1 and Line 2), bus and Private Car (when book a tour package with us, you'll enjoy private transfer service).
Accommodation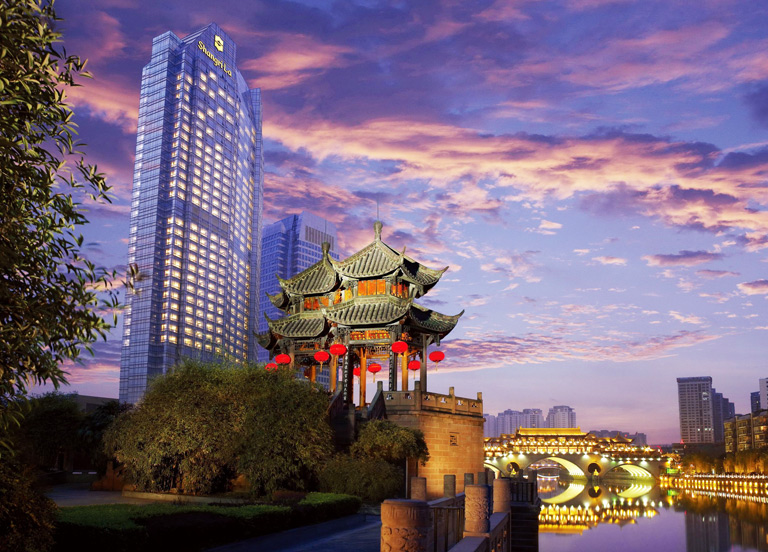 In Chengdu, there are lots of hotels and hostels providing comfortable stay. Travelers could choose from international brands, local brands and boutique hotels, ranging from 5 star to 3 star. Different styles of hotels are offered, from luxury ones, mid-range to budget ones no matter you want to stay in city center, Wuhou District, Jinjiang District, Qingyang District or even Tianfu New District. If you want to stay near Chengdu Shuangliu International Airport or train station, you can find the suitable one to satisfy your needs and requirements.
In and around Chengdu city center, you can choose from Crowne Plaza, Shangri-La Hotel, Sofitel and Sheraton, etc. All the hotels are with very convenient transfer distance to main tourist spots, like Wenshu Temple, Jinli Old Street, Wuhou Memorial Temple, Chunxi Road, Tianfu Square and with about 30-40 minutes' drive to Chengdu Research Base of Giant Panda Breeding.